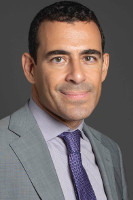 With great pride, we are honored to announce that our Greek partner, Spyros Antonelos, has been recently appointed as World Bank Group Mediation Officer for ECA (Europe and Central Asia) region.
Spyros has joined the WBG regional hub in Sofia (Bulgaria) in June 2019. He is the first full-time Mediation Services staff member located permanently in the country office. He is currently exclusively employed by the WBG, mediating mu
lticultural disputes, training its personnel in dispute prevention and resolution, facilitating group dialogue and promoting mediation in 23 countries.
With a prestigious international lawyer profile, Spyros largely invested himself in the mediation field. His professional career includes an accreditation from the Chartered Institute of Arbitrators (UK 2008), completed in 2013 by the Weinstein JAMS Fellowship and an advanced training at Pepperdine University in the United States. In 2014, he created along with Greek mediators Eleni K. Plessa and Irini Matsouka, "RESOLVE Mediators and ADR Experts", a leading Greek ADR firm (www.resolve.gr) that he co-managed until 2019. In 2016, he created Athens SMEs Chamber Mediation Centre (www.diam-acsmi.gr) that he directed until 2019. Spyros also taught Mediation and Negotiations at MEF University in Istanbul, Turkey.
In parallel with the above-mentioned activities, Spyros was an advisor to the Greek Ministry of Justice (2012-2018) and is the co-author of two mediation reference books in Greek along with Greek mediator and trainer Eleni K. Plessa and French mediator and trainer Beatrice Brenneur.
With this new appointment, Spyros is no longer able to continue his law practice in Greece, nor his involvement in Proteus network, leaving the place for a new member,  Ms Anastasia Papanikolaou.
Anastasia is a knowledgeable and dependable Greek Lawyer, holding a PhD in Criminal Law and running a pluridisciplinary law office in Athens, providing legal consultancy and legal representation before Greek courts and public authorities in English, French, German and Greek. We thank Spyros for all the years he dedicated to our network, for his hard work and involvement and we wish him a bright and fruitful career with WBG. Concomitantly, we wish Ms Papanikolaou a warm welcome to Proteus, looking forward to a prosperous and long-lasting relationship.